Business concept
(1)Facilities that take into consideration the surrounding environment and location characteristics.
・The facility plan shall be in harmony with the surrounding landscape and environment so as to conform to the policy of to match the Odawara city's policy on landscape formation at the hill.

・The land use plan should pay sufficient attention to the surrounding environment, road traffic, etc.
(2)Functilnal facility as a crematorium
・It will be a facility that combines dignity and convenience as a crematory where the ceremonies of the end of life are performed without being overemphasized for ornate decoration.

・The cremation furnace equipment will be equipped with the latest technology, friendly environmentally to fully respond to changes in cremation demand.

・The facility plan is rational to operate and maintain it easily.
(3)Facility that is conscious of users' feelings.
・It will be created a space suitable for a place of farewell.

・The flow planing should be in line with the flow of the funeral procession.

・The plan is a natural view from the building is secured
(4)Facilities comformed with local cremation customs.
・Considering that many relatives come to participate in cremation and inurnmet, which can be seen around Odawara City, the rooms will be planned according to the regional characteristics of the funeral procession.
(5)Facilities that are attended to social demands.
・It is planed to untilize nature energy (daylighting, natural ventilation, use of rainwater etc.).

・Considering that the facility is used by a wide range pf people (the handicapped, childeren, the eldery etc.). it is adopted universal designs (step-free access, install of handrail, …)

・Develop facilities in consideration of It is attended to emergencies as large-scale disasters.
Business scheme
This project is carried out with the BTO (Build transfer Operation) method. SPC※2 which signed a business contract with Odawara city, Odawara City Crematriunm PFI※1 Co., Ltd., made design and build the facility. After trasferring the ownership rights of the facility to the city, SPC operates and maintains the facility as a deginated manager※3.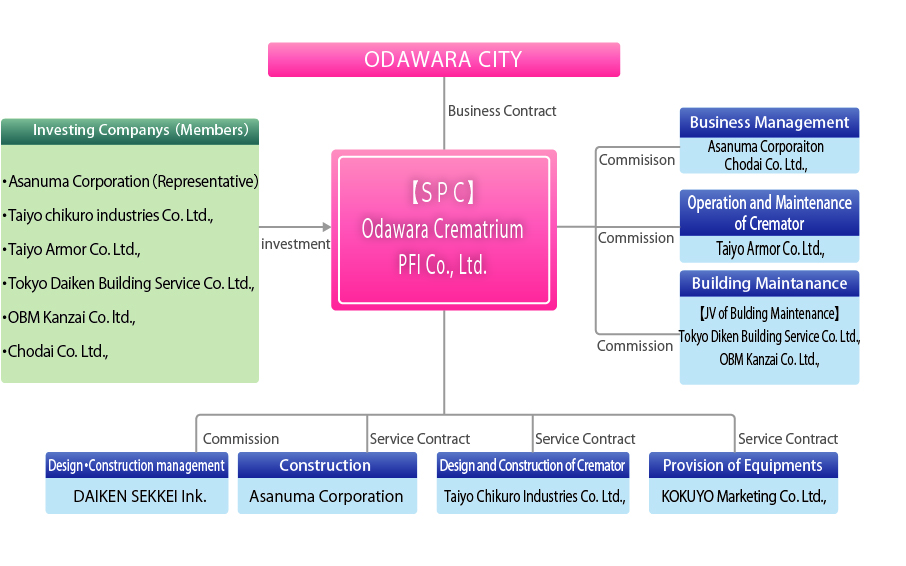 ※1 What is PFI?
"PFI (Private Finance Initiative)" is a new method for constructing, maintaining, and operating public facilities, etc. by utilizing private funds, management ability, and technical ability. This is a project implemented based on the "Act on Promotion of Development of Public Facilities, etc." (PFI Act).
※2 What is SPC?
SPC (Special Purpose Company) is a business company established to carry out PFI business. In this project, Odawara city Crematium PFI Co.,Ltd. corresponds with SPC. SPC concists of Asanuma Corporation as the representative company of SPC and Taiyo Chikuro Industries Co. Ltd., Taiyo armor Co., Ltd., Daiken Building Service Co., Ltd., OBM Kanzai Co., Ltd. and Chodai Co., Ltd. as the investors.

※3 What is the designated manager system?
It is a system introduced by the revision of the Local Autonomy Law in 2003, and it is possible for private businesses to manage public facilities that were previously limited to investment corporations and public organizations in the city. The purpose is to utilize private know-how to manage public facilities to improve services and reduce costs.